Managing a business, big or small, is a challenging task. Fortunately, there are available technologies that automate the repetitive duties of managers and their employees. Due to the astounding benefits that enterprise facility management solutions provide, Markets and Markets reported that such an industry could have a global market value of $65.5 billion by 2025. A large portion of the market valuation is due to the continuous automation of start-ups to large enterprises.
Since there are numerous applications available, it isn't easy to decide which platform is right for your company. If you are weighing options for facility management software that suits your needs, continue reading this article to know the key features and things you need to consider before purchasing the said business solution.
1) Take advantage of free trial and demo
When choosing the right business solution, it is beneficial to look for programs that offer a free trial. This way, you can test the functions of facility management system and decide whether the app responds to your business' needs. It also allows you to evaluate the platform's user-friendliness. During this time, you can ask your employees for comments and suggestions about the program. You can then communicate with the provider to let them know if there are changes that you want to make before purchasing their digital product.
Aside from product assessment, a free trial enables you to save resources since there is no monthly or annual commitment. You can quickly opt-out of the trial period if you and your team have negative concerns about the platform. Be sure to note the cancellation date to ensure that the provider will not charge you with a monthly fee.
2) Look for a customizable program
It is also crucial to search for a customizable software solution. This way, you can highlight the features that your team needs. Since the trial period gave your team a glimpse of the program's features, you can request the provider for modifications to suit your company's nature and goals. Customizability even enables the app to handle processes that are unique to your business. Hence, if the provider is rigid with their app's functionalities, it would be best to look for other options.
It is advisable to use a facility management system that offers different hosting and licensing options. For instance, consider a provider that allows you to host your platform in the cloud or on-premise. For small businesses, it might be a good idea to opt for cloud-hosted apps. Due to remote hosting's popularity among start-ups to mid-sized companies, a study from Market Research Future uncovered that web hosting's global market could reach up to $32.14 billion by 2023. Alternatively, multinational companies usually have their servers, so they choose on-premise deployment over shared hosting.
3) Consider a multi-platform app
Like any software solution, companies must look for a cross-platform facility management app. This feature allows you to access its tools and functionalities using any browser and device with an internet connection. Whether your company uses Windows, Linux, or macOS, you can still utilize the program. Through this feature, you can then access files anytime and anywhere. A multi-platform app is especially beneficial for companies with remote workers.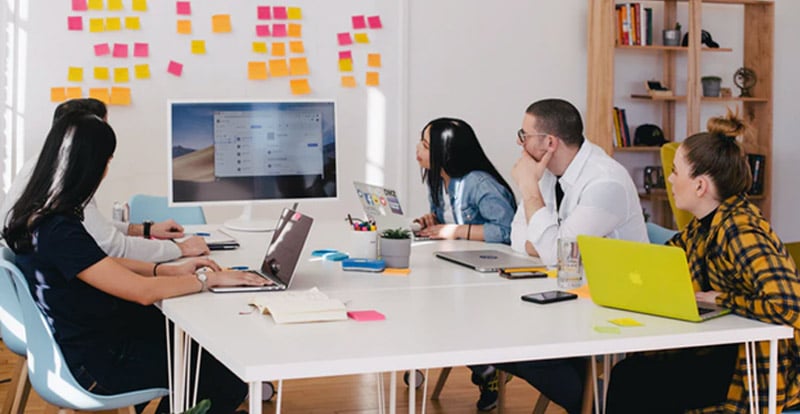 A cross-platform program also enables you to take advantage of certain features, such as quick response (QR) code and radio frequency identification (RFID). Through QR codes, your clients can easily register for events and reserve facilities. They can also pay fees by simply scanning the code. Additionally, RFID helps your employees track pieces of equipment easily. Even after the coronavirus pandemic, people will still be cautious of physical interactions. Hence, digitizing your operations is useful both for employees and customers.
4) Take advantage of artificial intelligence (AI)
AI continuously helps public institutions and private companies to reduce problems due to human error. Moreover, an automated facility management system features predictive maintenance and analytics. As a result, the platform provides information about equipment's lifespan and the needed repair services. You can then decide whether pieces of equipment are worth purchasing. This process then helps you save resources, such as time and money. It even enables you to accurately predict budget allocation for certain physical assets.
AI technology's latest trend provides you with a 3D model of your building. This visual representation helps you improve safety on-site and explore the possibilities of a more practical layout. What's more, it contributes to more secure properties. Thus, AI technology is an excellent addition to a facility management software program.
5) Research about vendor support
Like any software tools, an enterprise facility management system also experiences technical issues. You might also have general concerns while using the digital product. Due to such circumstances, you will need reliable customer support from the software provider. It is then crucial to look for a provider that extends 24/7 support through different channels, such as emails and telephone calls. This way, you can quickly start using the program again. This feature also ensures that your business operations will not be compromised during system downtime.
Aside from talking to the vendor's representatives, you can also read customer reviews on different sites. Some websites even have forums where clients share unbiased information about software tools. The reviews include ratings on general and niche-specific functionalities. You can then compare platforms under the same category and uncover if a provider offers excellent client support.
6) Include billing and payroll management tools
Regardless of your business' industry, it is crucial for an asset and facility management system to have billing and payroll processing tools. This feature enables you to collect payments from your clients conveniently. An enterprise facility software tool also allows the creation of purchase orders for a supplier. Additionally, the payroll management system will enable you to create your employees' pay sheets. Thus, aside from physical assets, such as pieces of equipment and buildings, this type of software program helps keep track of your company's finances.
You must also look for a program that can be linked to a third-party accounting system. This way, you can have consolidated financial data. This feature also guarantees that your financial information aligns with the bank's records. Hence, it allows for more efficient business operations and helps you avoid legal sanctions.
7) Look for event scheduling capability
Another crucial function of physical facilities management is the inclusion of event scheduling tools. Through these tools, members can register for events or reserve establishments. Besides, they help businesses to set maintenance and repair schedules that don't interfere with scheduled programs.
What's more, native apps can send automatic reminders regarding scheduled repair or functions. As a result, your team and your clients will always be updated on important dates. This process contributes to the efficiency of your company's events and processes. Thus, it would be best if you searched for a platform with robust event scheduling functionality.
Managing your business' facilities effectively
Through facility management software solutions, you can control your day-to-day business operations. But, before purchasing a software license for your company, be sure to take advantage of the free trial. It is also advisable to look for a platform that has event scheduling capabilities, billing management tools, exceptional customer service, and AI-powered functionalities. Lastly, consider a multi-platform app that is customizable so you can tailor it for your business' unique needs.
If you are looking for an option to start with, you can check out eFACiLiTY®, an enterprise facility management solution that helps businesses oversee and stay on top of their entire facilities operations. It centralizes handling of people, assets and maintenance in a single system. If you are interested, you can request an interactive demo of the product to get an overview of entire features and functionalities.