Helpdesk Software & Knowledgebase
eFACiLiTY® Helpdesk and Knowledgebase automates the helpdesk ticketing process with defined SLAs ensuring world-class service experience to customers/employees/occupants. The helpdesk software manages the workflow of registering, assigning & resolving all service requests and problems reported in a facility or an organization. The complete history of actions taken, events, follow-ups, messages exchanged, response times, and user feedback can be tracked via the system that helps in the analysis and improvement of the helpdesk and call resolution functions.
eFACiLiTY® Helpdesk and Knowledgebase puts all the configurable service request details in a single place i.e., a centralized helpdesk solution to ensure resolving support requests is seamless and more convenient for your team.
The custom workflows of eFACiLiTY® facilitate user to configure any required service/call type, categories & sub-categories to assign requests/issues/services to the respective team and team members to resolve within defined SLAs.
Helpdesk Software – Key Features
Call booking via emails, self-registration, telecalls, and BMS / BAS Alarms

Configurable workflows, status updates, and notifications

Register problems, service requests, etc.

Priority assignment based on nature of the faults

Assign, distribute and monitor requests

Self-assignment by the operator

Escalation based on SLAs defined

Recording of all events throughout the life cycle of a call

Exchange of information between job requestor and operator via message option

Raise, track and close Work orders

Record solutions and post in the knowledgebase

SLA Analysis and breach notifications
Call response analysis with minimum TAT

SLA Elapsed and closure time nearing SLA Alerts

FAQs, links, faults and solution history

Fully indexed data for fast searching

Simple and advanced search functions

Intuitive helpdesk call status dashboard

Workflows for Incident/Problem/Change/Service Request Management

Quickly respond and resolve incidents reported

Escalate, prioritize, categorize calls/incidents

Configurable penalty charges

ITIL compliance for problem, change and incident management

Improved customer satisfaction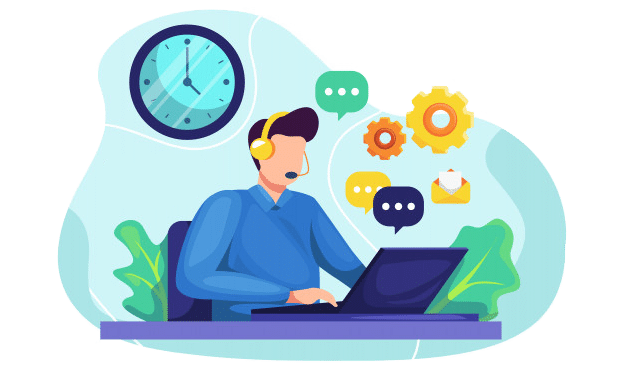 Cleaning & Janitorial Services

Horticulture & Landscaping

Food Services or Cafeteria Support
Reception Services, Security Services

Pest Control, Concierge Service
Employee Information Change

Employee Onboarding/Offboarding

Employment Verification Letter

General Queries on Leaves/Permissions/On-Duties/Life-Events
Payroll Certificates & Benefits

Tax/Payments Reimbursements, etc.,
IT Support Services/Requests
Software Support/Installation/Procurement
Desktop/Laptop Repair & Maintenance

Hardware Support/Installation/Procurement

Software Licensing/Renewals, etc.,
Planned preventive maintenance

Elevator Maintenance, etc.,
Other types of Requests/Services
Accident/Incident Logging

Booking a Meeting/Vehicle
eFACiLiTY® Smart Facility App
With eFACiLiTY® Helpdesk & Knowledgebase mobile app all your clients, the employees across your organization be it IT, HR, Facilities, etc., can raise tickets, raise complaints, request services, or get any help they need instantly.
Raise, assign & resolve problem tickets, service requests, and incidents on the move

Complete context on requests like ticket details, SLA, etc., at a glance

End-to-end Service Requests Management

Priority-based SLA & Penalty Tracking

Technicians can upload videos/photos/other attachments upon resolving a ticket

Assign/Re-assign requests to other teams/operators as and when required

Customizable Services like Concierge, Resource relocations, etc.,

Interactive Performance Dashboards/KPIs

SMS/Email/App notifications on SLA breaches and requests assigned/resolved

Aligns with ITIL requirements
Watch Video
Short videos to explain our software's unique features
Short videos help in bringing out the unique features and screenshots of various modules which are explained in detail
Download Presentation
Our interactive PPT with detailed information on our product
The presentation details the key features of various modules and provides an overview of our product
Online Demo
Register for an interactive online demo session
In this interactive demo session, you will get a guided and complete overview of all the features and functionalities of eFACiLiTY®
Join the 1 Million+ Satisfied eFACiLiTY® Users !