Driving user engagement in facilities in the current context is essential to improve the efficiency of the services provided, save energy costs and ensure occupant's comfort & safety.
eFACiLiTY® Smart Building Controls App achieves these objectives by enabling facility managers to provide occupants the ability to operate and schedule their individually used workplace lighting, air conditioners, window blinds, etc., using their smartphones. The app also enables the meeting hosts/participants to control the equipment in conference rooms, meeting rooms, auditoriums, etc. This is achieved by tightly integrating with the Building Management/Automation Systems (BAS/BMS) applying enterprise-level security.
eFACiLiTY® Smart Building Controls integrates with all the leading Building Management Systems/Building Automation Systems (BAS/BMS) to control HVAC systems, lighting, window blinds, ventilation systems, security systems, lifts, motorized gates, etc., to completely automate your building operations, thereby facilitating touch-free/contactless building operations.
Integrates with popular BMS / BAS
eFACiLiTY® Smart Building Controls integration with IoT Sensors, Access Control System, Surveillance System, BAS/BMS, etc., provides 3600 control, automation, and real-time operational experience of the smart buildings or autonomous buildings from the comfort of the occupant's mobile phones and also via kiosks/touch panels placed in common areas in the building premises.
It allows occupants to operate and control equipment/devices at their seating areas or cabins, common areas, conference & meeting rooms, etc., reducing friction, streamlining, and digitizing manual processes.
eFACiLiTY® Smart Building Controls is an extension of the smart workplace and company user experience, directly in the hand of each occupant. It offers the ability to fully automate all electronic and electro-mechanical devices in the building, allowing the building occupants to securely control the devices using their smartphones based on configured privileges, their seating locations, etc.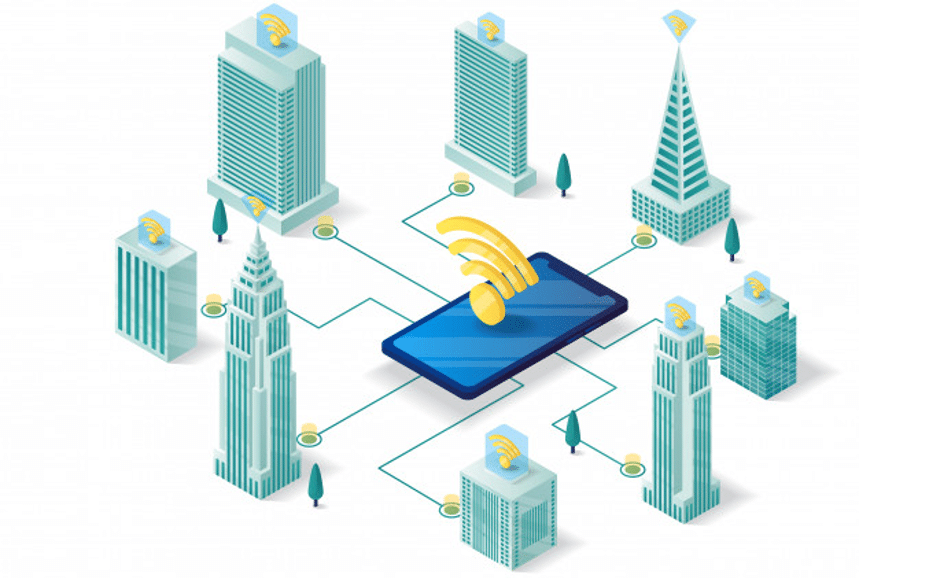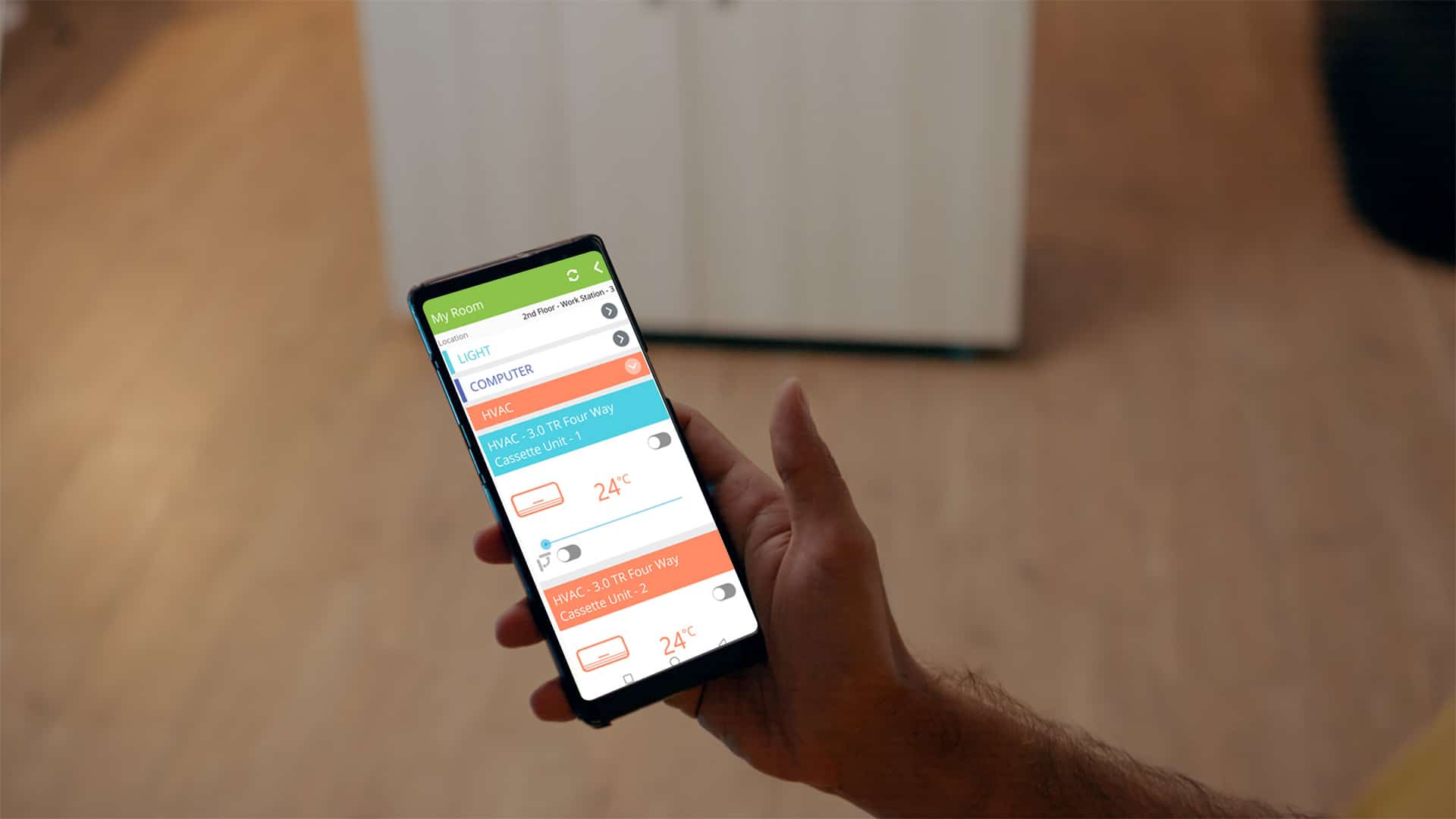 Users can personalize the operating parameters of the equipment like their room's temperature, lighting, etc., so that they have the best possible work environment, improving their efficiency and quality of work.

Users can access and control lights – on/off, set LUX levels based on which automate the switching of lights, HVAC – on/off, control the fan speed, swing direction, temperature control, window blinds – control, control lifts (elevators), open/close motorized gates/shutters, access control systems, etc., all within the reach of their fingertips
Indoor & Outdoor Environmental Quality and Air Quality Display
eFACiLiTY® Smart Building Controls monitors indoor/outdoor air-quality levels & alerts occupants when air quality becomes unhealthy.
Integrating eFACiLiTY® Smart Building Controls with all IoT sensors/BMS systems, etc., provides a live display of occupant's current location's air quality and other indoor/outdoor environment quality parameters like PM2.5/10 levels, CO2 levels, CO levels, TVOC levels, Wind speed, Humidity, Temperature, etc. in the mobile app with an intuitive interface.

This live display of indoor environmental parameters allows the occupants to adjust their ventilation systems or move to a better workspace if they are sensitive to air quality issues.

Live display of outdoor air quality parameters like wind speed, temperature, humidity, etc., alerts users with simple pop-ups, encouraging them to go out or open/close operable windows to get some healthy fresh air.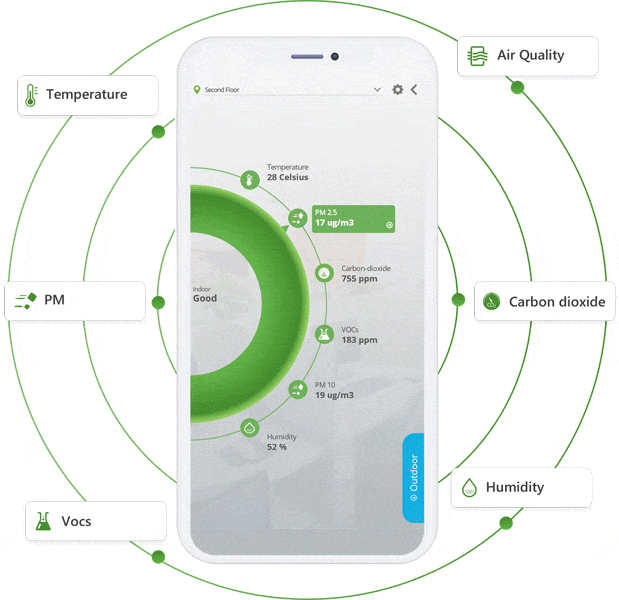 Better control means better comfort
Enabling smart workplaces via Smartphones & Kiosk/Touch panels