Building Management/Automation Systems (BMS/BAS) are interconnected networks of hardware and software that provide a single point of control and monitoring a workplace, commercial or industrial facility. BAS/BMS integration with eFACiLiTY® provides smart automation for the facilities enabling monitoring and controlling of various sensors/equipment/assets to improve the building operations. It manages various building systems ensuring the operational performance of the facility as well as the comfort and safety of building occupants.
eFACiLiTY® integrates with all Building Management System / Building Automation System (BMS/BAS) in the market seamlessly.
Building Automation System (BAS/BMS) integration with a comprehensive FM solution like eFACiLiTY® will essentially transform your building into a Smart & Intelligent Building.
 eFACiLiTY® integration with Building Automation System (BAS/BMS) facilitates the following.
AUTOMATIC WORK ORDER TRIGGERING
eFACiLiTY® can auto-detect any type of alarm (Change of state, Out of Range, etc.,) or pre-set readings from the building management system and automatically raise work orders via eFACiLiTY® Enterprise Asset Management System module establishing smart building management thereby bringing focus to impending problems that might not be addressed otherwise.
Alarm based work order triggering
Through seamless integration with eFACiLiTY®, the alarms triggered by the functional building/facility systems (building control systems, M&E services, fire protection, CCTV system, access control, security systems, etc.) will be captured by eFACiLiTY® Enterprise Asset Management System via the BMS/BAS systems.
Automatic work orders will be generated & auto-assigned to technician/contractor with email, SMS, push notifications, etc. This allows facility managers to make significant savings by ensuring preventive maintenance is performed only when required, hence improving the lifespan of the equipment/asset through proactive repair.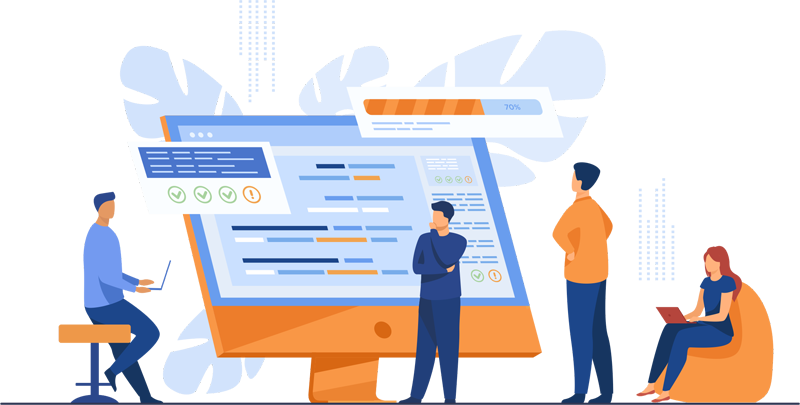 Usage-based work order triggering
All critical equipment that needs maintenance based on its usage needs to be frequently monitored. eFACiLiTY® Enterprise Asset Management System integration with BAS/BMS will identify maintenance & services requirements of an asset or equipment based on its usage, thereby anticipating equipment failure/breakdown by monitoring the utilization data.
If the recorded readings exceed the pre-defined threshold, an automatic work order will be triggered and auto-assigned to a technician with email/SMS/push notifications. Automatic work order schedules (scheduled/predictive) will also be sent to the technician/contractors through email/SMS/push notification with work order details (Spares, Tools, Tasks, etc.,)
SMART MEETING ROOMS FOR AGILE WORKPLACES
Integrating eFACiLiTY® Facility Booking System/Facility Reservation Software with BAS/BMS facilitates smart automation of HVAC, lightings, projectors, focus lights, window blinds, access control systems, and other equipment in meeting rooms, conference/training rooms, etc. based on meeting schedules/bookings in your workplaces/buildings. It provides full-fledged automation of facility booking/reservation right from the minute the attendees enter the meeting rooms to the moment the last person exits the room.
eFACiLiTY® Facility Booking System smartly switches on the HVAC, lightings, projector, or any other equipment in the booked facility before the scheduled start time and auto-cut-off after the meeting time without manual intervention.
Bringing flexibility & mobility to your occupants is the eFACiLiTY® Facility Booking App/Facility Kiosk App which lets them control/operate equipment in the meeting rooms via their mobile devices or touch panels/kiosks placed inside the facility.
Control focus lights to toggle between Meeting Mode & Projection Mode

Control the lightings on/off

Control automated window blinds

End or extend ongoing meetings

End booking automatically switches off all lights and HVAC to ensure that no electrical device is ON after the end of the meeting saving energy

When the user extends an ongoing meeting, eFACiLiTY® Facility Booking System smartly notifies all the respective devices of the 'extend' status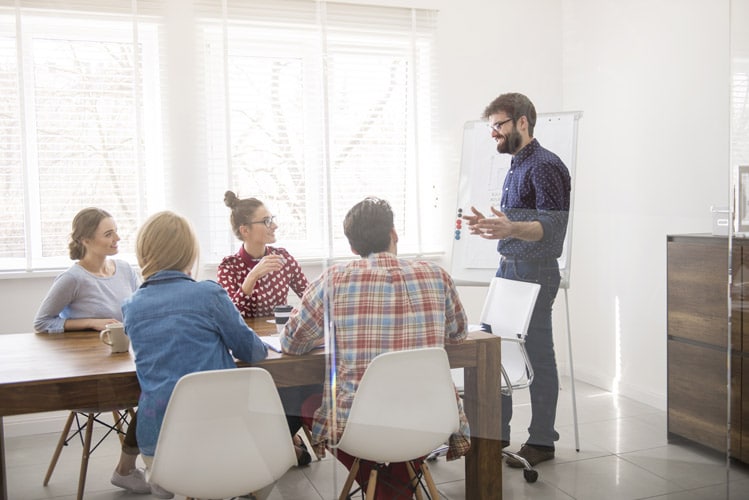 On a sunny day, when your sun control and shading device automates the window blinds to open position allowing the bright natural light to step inside your meeting rooms, eFACiLiTY® immediately understand the need for low lighting levels and elegantly lowers the LUX levels helping you save a lot of energy while allowing your meetings to happen more lively in natural lights. Likewise, when the natural light outside decreases eFACiLiTY® cleverly increases the LUX levels without disrupting the meeting flow.
eFACiLiTY® Facility Booking System aids in energy conservation big time by turning on/off the equipment in the facility based on the employee entry/exit into the rooms via access control system integration, limiting the operation of equipment to only when space is occupied.
If at all any device goes off/faulty during the meeting eFACiLiTY® automatically triggers work orders and initiates the respective corrective actions instantly eliminating any kind of manual intervention to provide uninterrupted hours of productive collaborations for your employees in the meeting rooms.
SWITCHING HVAC / LIGHTING