On-boarding & Off-boarding Workflow Management System
Onboarding and offboarding of an employee is an overwhelmingly tedious process in an organization. Choosing the right software like eFACiLiTY® On-boarding/Off-boarding Workflow Management System can reduce the administrative burdens and ensure smooth onboarding processes for new hires/joiners and a hassle-free release process for outgoing/relieving employees.
eFACiLiTY® On-boarding/Off-boarding Software automates and streamlines an employee's onboarding/off-boarding processes right from induction programs to exit interviews and automates tasks related to promotion/transfer operations effectively saving HR time and effort.
The on-boarding/off-boarding process and tasks vary based on several aspects like employee type, designation/grade, department, etc. from organization to organization. eFACiLiTY® perfectly manages this requirement enabling the HR teams/managers to automate these routine activities easily and ensuring 100% compliance.
On-boarding & Off-boarding – Key Features
Configurable workflows for onboarding include:
Issue ID/access cards, workspace allocation, updating bank details, personal details, required IT setup, scheduling induction programs, assigning supervisor, shift timings, upload documents, enrol to insurance/provident fund and to comply with all statutory requirements etc.


Configurable workflows for off-boarding includes:
Withdraw ID/access cards, schedule KT sessions, exit interviews, deactivate employee profile, collecting feedback, retirement update, employee resignation & acceptance, de-enrollment etc.

Configurable Promotion or Transfer operations include:
Promotion/transfer settings & schedule, transfer/promotion intimation mails, configure and automate reminder notifications to approve promotion/transfer initiation, reminder mails until completion


Automated reminders for pending tasks, email & SMS reminders, mobile approvals, help in executing all the workflow generated tasks more efficiently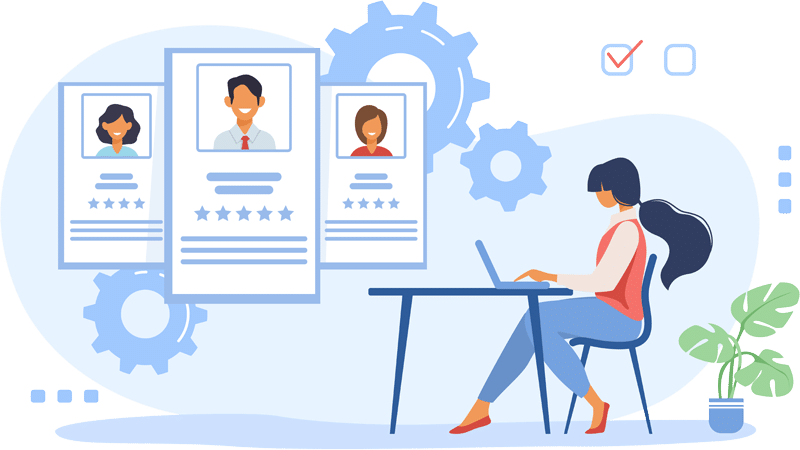 Download Presentation
Our interactive PPT with detailed information on our product
The presentation details the key features of various modules and provides an overview of our product