Visitor Management Software/Lobby Management System
The security requirements of large organizations and infrastructures are challenging and growing increasingly. Visitors should be screened, registered, signed in quickly, and allowed to visit only permissible areas via integration with access control devices. eFACiLiTY® brings you the most interactive visitor management system that is highly configurable and designed to suit your custom workflows and enterprise needs.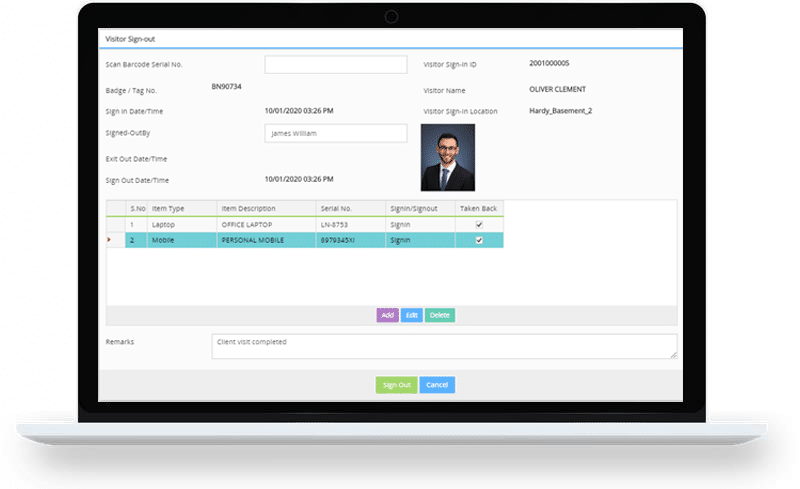 Custom workflows for visitor specific sign-in, multi-level approval workflow, time-bound & visitor-specific access requirements

Central implementation to monitor sites across geographies

Multi-lingual support for easy and intuitive visitor check-in experiences

Online requests for appointment and pre-registration for groups & individuals

Email / SMS / App notifications on appointment requests, approvals, and rejections

Today's appointments and expected visitors

Business card scanning, NFC, smartcards/e-passport integration for speedy registrations

Customizable badge pass printing with facility visitor regulations/disclaimers

Print QR Codes posters for quick visitor registration/sign-in

Time-bound & location-specific access validity management through Barcode/QR Code/NFC/RFID integration

Visitor photo and signature capture, Items carried in/out & returnable items tracking
Access control system/turnstile gates integration

Multi-level gate pass visitor's approval workflow

Visitor E-Pass generation

Enhanced visitor history tracking with visitor badges

Trigger mass evacuation alerts to visitors, alert hosts & send on-site visitors list to security personnel

Real-time reports & analytics, visitor feedbacks, actionable insights

Intuitive dashboards to view visitor status real-time

Blacklisted visitor/watchlist verification

Face recognition Integration

MS Exchange / MS Outlook integration for appointments calendar

Aligns with ISMS, HSE, & GDPR compliance requirements
eFACiLiTY® Smart Mobile App
Hosts can pre-register visitors easily and send SMS/email invites with QR codes/Barcodes for quick check-in's
Hosts can approve/reject visitor appointment requests
View and approve/reject pending badge/pass for visitor entry/exit
Host notifications with visitor photo for quick approvals, overstay alerts, emergency notifications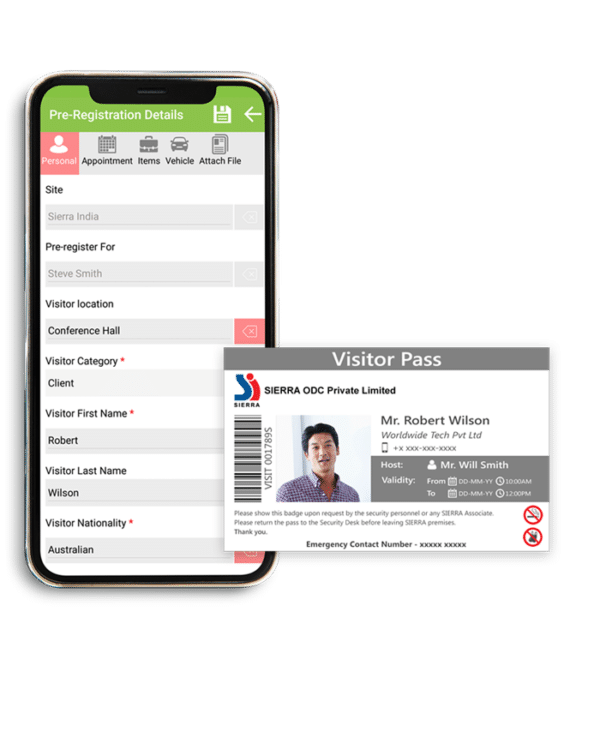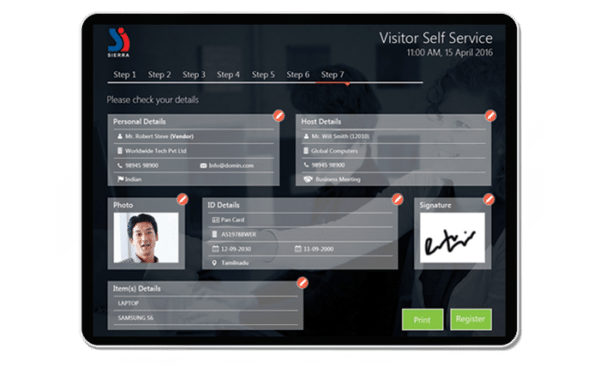 eFACiLiTY® Visitor Kiosk App
Power up your visitor experience with our state-of-the-art eFACiLiTY® visitor kiosk app!
Visitor self sign-in & sign-out using kiosk app

Quick visitor self sign-in with face capture

Visitor validation with a one-time password (OTP)

e-Signature for visitor agreements/NDAs/disclaimers, legal documents, health & safety requirements

Instant visitor badge/pass printing for pre-registered visitors

Automated visitor self sign-out with feedback
Visitor Management Post COVID-19
COVID-19 has highly altered the objectives of visitor management in workplaces, and the priorities to screen visitors have also changed dramatically. The custom workflows and flexible integrations of eFACiLiTY® will help you incorporate these new requirements easily to identify potential contacts ahead of time.
Below are some of the ways eFACiLiTY® will help you to screen your visitors during/post the pandemic breakout:
Custom sign-in workflows to collect travel history before Appointment Confirmation/Sign-in

Visitor sign-off on legal Health Declarations confirming no exposure to the harmful virus

Hard stops during pre-registration to record body temperature & any other symptoms of illness like fever, cough, etc.

Track visitor movement to identify occupants coming in contact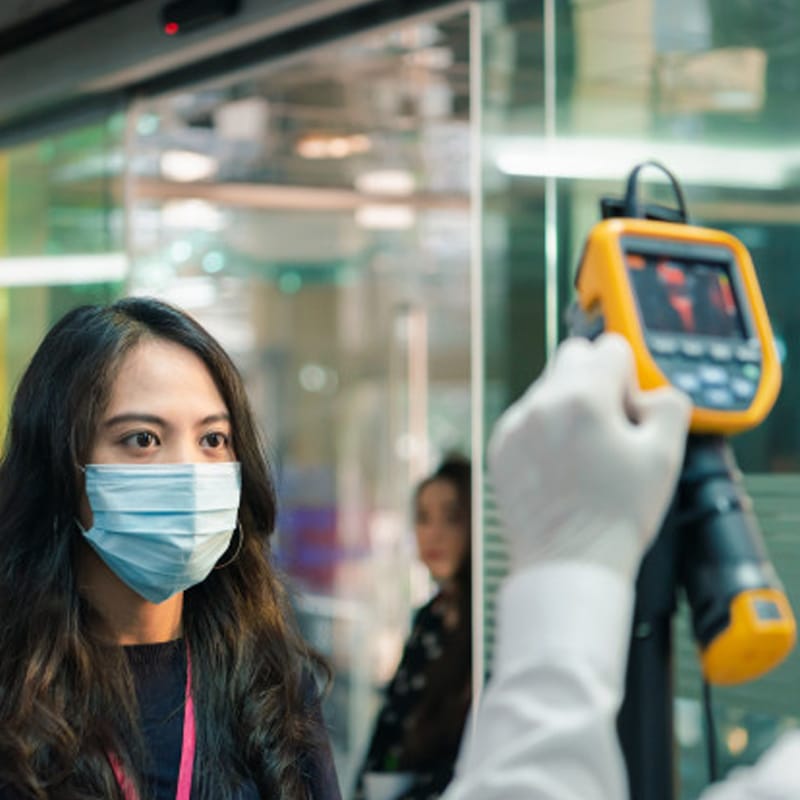 Watch Video
Short videos to explain our software's unique features
Short videos help in bringing out the unique features and screenshots of various modules which are explained in detail
Download Presentation
Our interactive PPT with detailed information on our product
The presentation details the key features of various modules and provides an overview of our product
Online Demo
Register for an interactive online demo session
In this interactive demo session, you will get a guided and complete overview of all the features and functionalities of eFACiLiTY®
Join the 1 Million+ Satisfied eFACiLiTY® Users !