Facility Booking System and Office Reservation System
The facility booking system/meeting room booking system is a web-based facility reservation software that provides complete controllability to manage shared and rentable facilities and resources. It streamlines the reservation and usage of common & individual facilities/equipment by businesses within a building. Facility booking, approval, and billing operations across organizations enhance operational efficiency. Meeting rooms, conference halls, office space, auditoriums, sports facilities, high-cost equipment, training facilities, etc., can be booked through the system seamlessly.
It eliminates the hassles involved in scheduling meetings, booking the required meeting rooms, inviting external and internal visitors, getting the meeting room cleaned before and after the meeting, order refreshments, book car parking spaces, etc., and all this can be done using a single interface.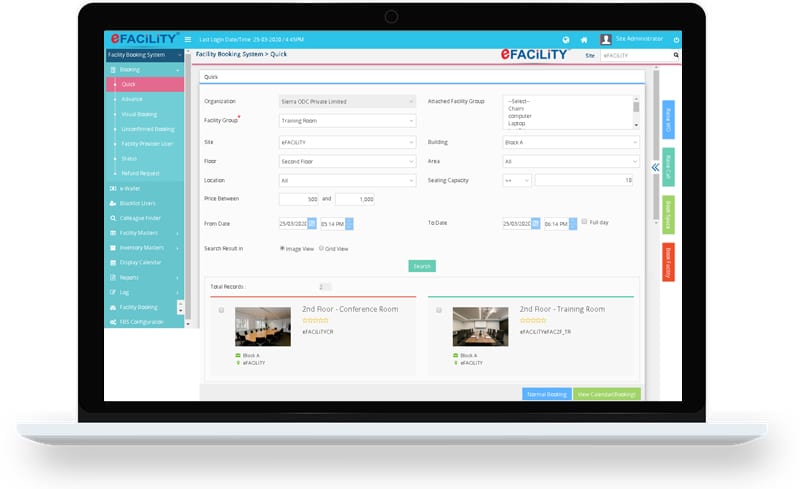 Booking requests, approval workflows

Visual booking viewing the floor plans – using a graphical interface

Confirmation, rejection, suggestion of alternate facilities

Re-allocation, cancellation, block/extend a booking

Email/SMS/WhatsApp notifications on requests, approvals, and cancellation

Billing of reservations & cancellations

Managing of inventories for booked facilities

Billing with payment gateway integration

Inviting internal & external attendees for meetings

Scheduling of refreshment orders to catering
Switch On/Off HVAC and lighting automatically with BAS/BMS integration before scheduled start time and auto-cut-off after meeting time

Pre-register meeting attendees with visitor management

Reserve car parking spaces

Automatic scheduling of cleaning activities with housekeeping team before and after use

Display user availability calendars from MS Exchange

Bi-directional MS Exchange/MS Outlook/Active Directory integration

Manage all bookings over the web, kiosk and mobile apps

Print QR codes posters and stick outside bookable facilities for users to scan and instantly book the facility
eFACiLiTY® Smart Facility App
Effortlessly schedule meetings & manage meeting rooms with our mobile app on the move! With eFACiLiTY® Smart Facility App scheduling meetings are a whole lot easier and smooth.
Overview of scheduled meetings at a glance in a visual floor plan

Quick & advanced facility booking

Update/Extend/End an ongoing booking

Microsoft Outlook integration for appointments

Pre-register external attendees, order refreshments, reserve car parking spaces, etc.,

Email/SMS/Push notifications on requests, approvals, and cancellation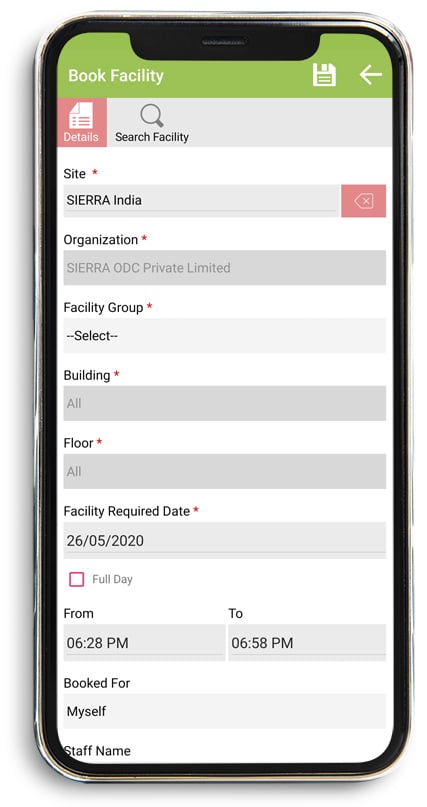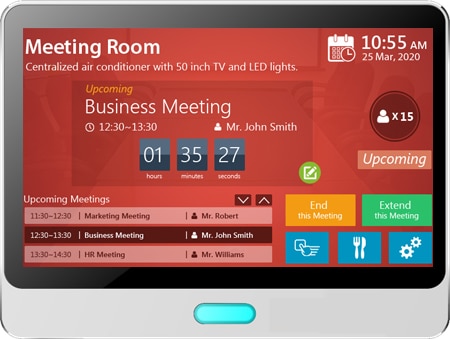 eFACiLiTY® Facility Booking Kiosk
Install good looking meeting room display systems in front of important conference/meeting rooms to display current/upcoming meetings and allow instant booking of the facility. Tablets/touch panels can be installed inside the rooms to allow users to extend/end an ongoing booking, schedule refreshments and control the air-conditioning and lighting systems.
Acts as a meeting room display listing the ongoing and upcoming meetings

Allows to scan the RFID based ID cards or NFC enabled smartphones to authenticate users and book the meeting room

Allows controlling lighting and air-conditioning displaying good looking floor plans of the meeting room

Toggle between projection mode & meeting mode to switch on/off the lightings and control automated window blinds

End or extend ongoing meetings

Place refreshment orders with cafeteria

Access control system/NFC integration

MS Exchange/Office 365 Integrations for appointments retrieval & reminders

End booking automatically switches-off all lights and HVAC to ensure that no electrical device is ON after the end of the meeting saving energy
Importance of Facility Booking System in the COVID-19 era
With the need for social/physical distancing at all workplaces due to the wake of COVID-19 pandemic, it is imperative to reduce the number of people who can occupy a meeting room. We ensure significant safe workplace practices are applied when people reserve meeting rooms via eFACiLiTY® Facility Booking System.
Displays meeting room capacities applying social distancing norms. The occupancy capacity is reduced to ensure that bigger rooms are booked than during normal to reduce the possibility of droplet transmission

Increase intervals between two meetings to enable disinfecting & cleaning activities and air-circulation to reduce infections after the end of every meeting

Eliminates contact with high-touch surfaces as hosts/attendees can operate the lighting and air-conditioning systems in meeting rooms through eFACiLiTY® Smart Facility App without touching any switches/remotes

Fresh air supply to the meeting rooms/auditoriums can be automatically switched on several hours before the start of the meetings and run after completion of the meetings to ensure that there is no contaminated air left in the facility with BMS/BAS integration

Automated tickets/alerts for housekeeping activities to disinfect the meeting rooms before and after the meeting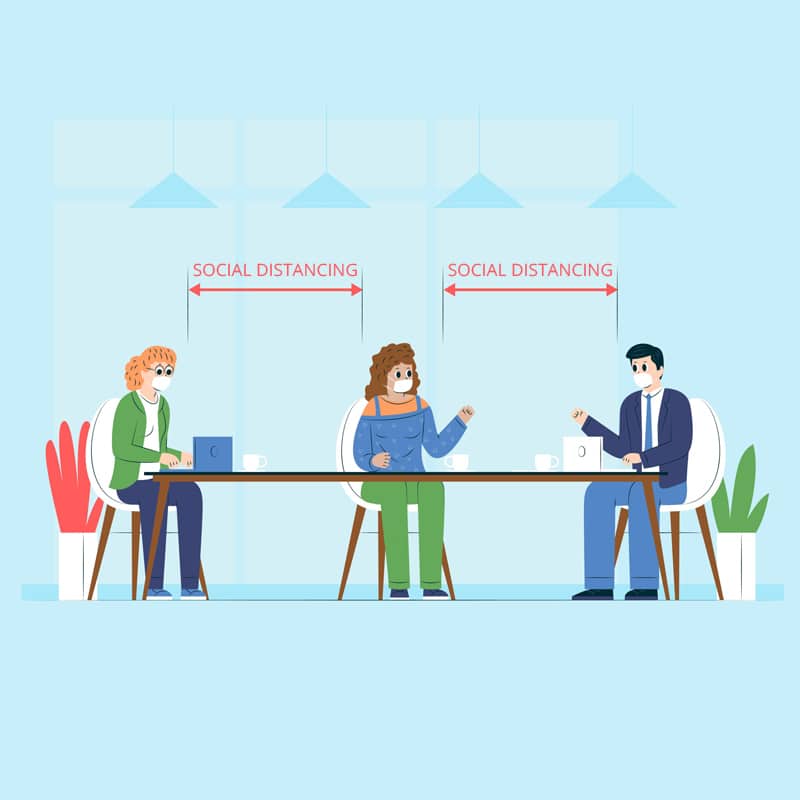 Watch Video
Short videos to explain our software's unique features
Short videos help in bringing out the unique features and screenshots of various modules which are explained in detail
Download Presentation
Our interactive PPT with detailed information on our product
The presentation details the key features of various modules and provides an overview of our product
Online Demo
Register for an interactive online demo session
In this interactive demo session, you will get a guided and complete overview of all the features and functionalities of eFACiLiTY®
Join the 1 Million+ Satisfied eFACiLiTY® Users !