A perfect workplace needs to be comfortable and engage employees, beyond that it should be tailored to ensure maximum productivity. Recent Harvard research studies have proved that organizations have witnessed a fall in medical costs & absenteeism costs after they have started investing in employee wellness programs.
Creating a psychologically and emotionally healthy workplace for employees will help them identify and meet their health & wellness goals. At its core, a workplace that is connected, encouraging, supportive, & engaged adds gratification, happiness, and delivers highly productive employees.
Occupant Health
& Well-being App
eFACiLiTY® Occupant Health & Well-being App module caters to the human health and wellness standards for buildings specified in the WELL Building Standard™, the leading global rating system constituted by The International WELL Building Institute™ (IWBI™) and also the Fitwel standard created by The Center for Active Design (CfAD) in partnership with the U.S. Center for Disease Control and Prevention (CDC) and the General Services Administration (GSA).
Equipping your employees with a handy health and wellness app to monitor their physical activity, nutrition, environmental parameters and allowing them to benchmark their physical activity amongst their peers at work will enable them to move towards a much healthier lifestyle and improve their overall health & well-being.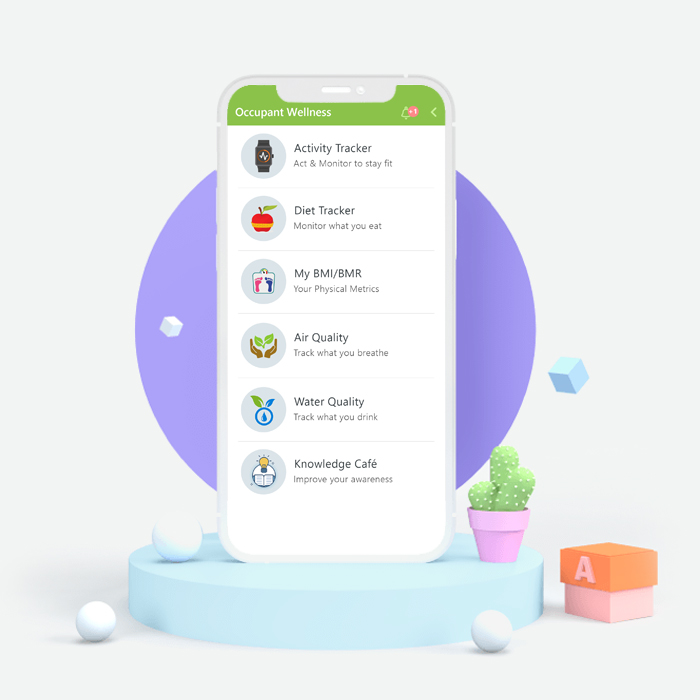 Enable your employees to monitor the air they breathe
| Air Quality Monitoring
There is a great association between environmental conditions and symptoms amongst employees who spend 90% of their life indoors. Poor indoor air quality has direct negative impacts on the cognitive abilities of the occupants. General discomfort, high absenteeism, altered temperament, dissatisfaction, and low productivity are other impacts and causes considerable damage to the health, thinking ability, and productivity of the employees.
Air quality extends beyond visible pollutants and some factors are harder to trace or feel like volatile organic compounds that can still hinder both health and productivity. And, that's exactly the reason why knowing the indoor environmental quality is of the utmost importance now & eFACiLiTY® can be your great companion on this.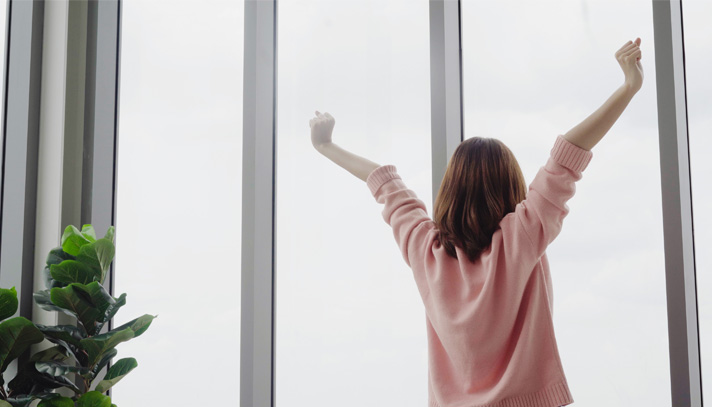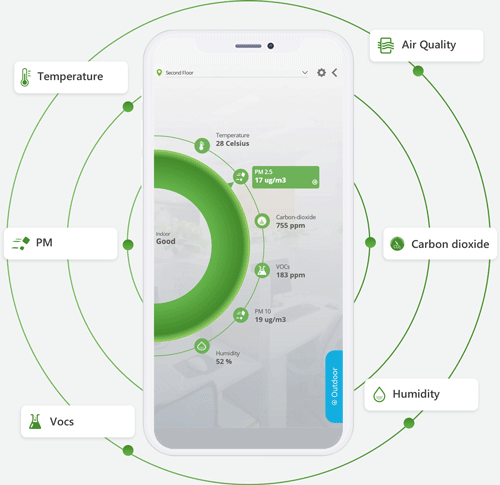 Monitor Indoor/Outdoor air-quality across zones & alert occupants when air quality becomes unhealthy in their current location

Air quality dashboard displays at common areas and personal mobile devices create occupant awareness

Integrates with all leading BAS/BAS and several other IoT sensors to track PM2.5, PM10, CO2, CO, TVOC, Humidity, Temperature, etc.

Live display of their current location' air quality and other indoor and outdoor environment quality parameters in the mobile app with an intuitive interface

Pest control calendar display, information on the kind of pesticides that will be used for the activity, and alerts before and after the activity for the benefit of people sensitive to the chemicals

Alerts encouraging occupants to open/close operable windows to get fresh-air by monitoring the outdoor air quality levels, temperature, and wind speed enabling them to get fresh air
Help your employees to stay fit, stay healthy
| Physical Activity Tracker
Whether your employees are trying to lose weight, eat healthier, or take more exercise, eFACiLiTY® Occupant Health & Well-being app can be a great tool for helping them achieve their fitness goals.
Through integration with their activity tracking devices/apps, eFACiLiTY® keeps track of their physical activity including distance walked/jogged, step counts, calories burned, etc., set goals, and also compares their calories burnt against calories consumed (intake) providing complete visibility into their health/lifestyle. The physical activity leaderboard encourages employees to benchmark/compete with their peers towards a healthier lifestyle.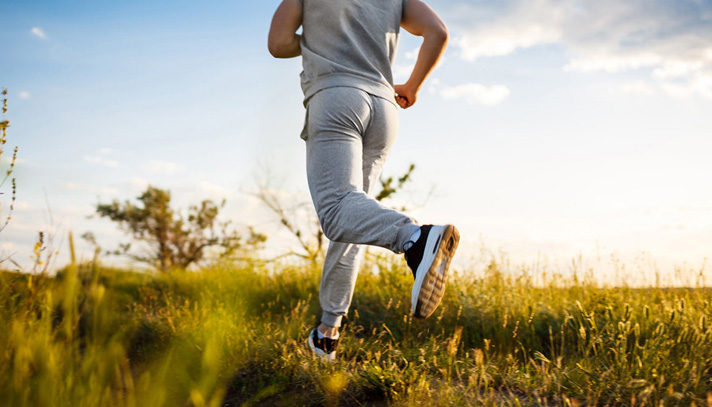 Integration with Fitbit, Google Fit, Samsung Health, Apple Health Kit, etc. and other wearable tracking devices to track the physical activity of the occupants

Display calories consumed vs burnt tracking to promote physical activity and reduce calorie intake

Activity tracking dashboard, daily/weekly/monthly trends

Organization-wide physical activity leaderboard to foster interest and also benchmark

Human Resource teams can use this data for their organization-wide health & well-being programs by announcing monthly goals and reward achievers to create a healthier workplace