Space Management System / Space Planning System
eFACiLiTY® Space Management System is the leading workplace space planning solution that allows to efficiently track & manage department/cost centre/project wise space allocation, seat assignment and helps in implementing hot-desking/on-demand seat booking of shared workspaces in this increased work-from-home era. Usage of floor plans for visual representation for planning, assignment & booking, integration with IoT seat sensors for real-time occupancy data, QR codes for users to scan & book seats, kiosk & mobile based space booking and occupancy trend analysis dashboards makes it very user-friendly to implement. The seamless shared spaces implementation and improved space automation helps organizations to save huge infrastructure costs.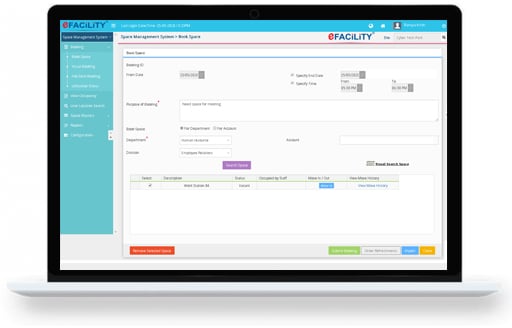 Multi-site, multi-organization, multi-time zone, and multi-lingual

Create and manage space inventory using actual floor plans

Hot-desking/on-demand workspace booking using Kiosks, Web & Mobile apps

Space assignment and allocation based on departments / Cost Centres / Projects

Cross utilization billing between departments / Cost Centres / Projects

Configurable space allocation that is specific to defined time-slots and shifts

Visual occupancy dashboards for space utilization analysis and optimization

Scheduling of cleaning/housekeeping activity against each booking for improved hygiene

Instant booking by simply scanning the QR code displayed at any shared workspace

Auto assign workspace based on clock-in by user with access control system / time & attendance system integration and also record check-out using the same
Automatic space allocation by in a hot-desking environment. The system can intelligently fill spaces area wise/floor wise based on the duration/timing in a more optimal way. This helps in switching on/off lighting, HVAC etc. as and when required automatically which results in significant energy savings and also equipment maintenance and replacement costs.

My QR Code: Dynamic, colour coded QR codes displayed on user's mobile app for validation by security at the entry gates to allow only users with valid space booking

Managing of attached facilities while booking each space. Ex: Book a space with an IP phone or additional chair or standing desk provision

Occupancy analysis reports for space planners to optimize the available space across multiple sites

Extensive reporting capabilities with occupancy charts, dashboards and plethora of reports. Inbuilt KPI and report builder for customized reports.

Integration with BIM models for displaying 3-D model of the entire workplace. 2-D display with AutoCAD / Image files.
Instant booking of workspaces in a hot-desking environment

View space allocated for the day

Extend or cancel a booking

Dynamic My QR Code: Use as Entry Badge/Pass for entry gate security checks

Auto Reminders for check-ins based on booking slots

Instant booking by simply scanning the QR code displayed at any shared workspace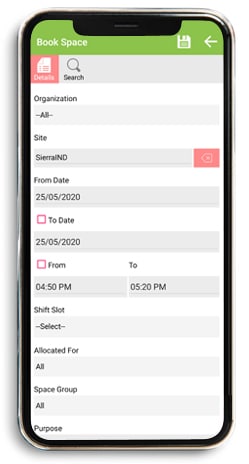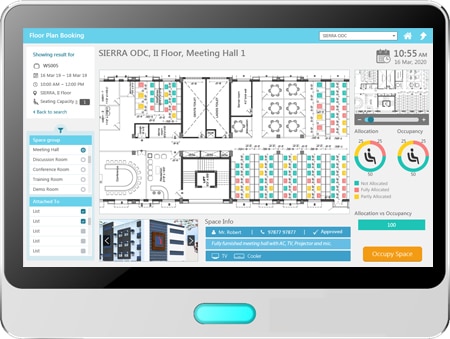 Instant booking of workspaces in a hot-desking environment

Auto allocate based on optimum energy usage while taking care of individual preferences

Allocate and release spaces automatically through Access Control System / NFC integration / IoT Seat Sensors

Virtual directory for employee location search through a visual floor plan
Space Management post COVID
The outbreak of COVID-19 and the social distancing norms have impacted the workspace arrangements and eFACiLiTY® is geared to help you manage space optimally with social distancing norms applied.
Allows to configure allocation of only alternate desk spaces to maintain "physical" or "social" distancing norm

Limit the number of people in a particular area to ensure that it is not crowded by restricting location wise or department wise total space allocations at any given point of time

Hot-desking functionality is more critical for organization allowing remote working / work from home (WFH) options

Restrict time-slots to disinfect & deep clean work areas

Increased traceability by identifying employee wise space occupied, helps to trace the contact

Allow seat booking in cafeterias/dining areas applying social distancing norms and defined time-slots

Dining areas bookings through QR Code / mobile app for gatekeepers to quickly scan or view and allow entry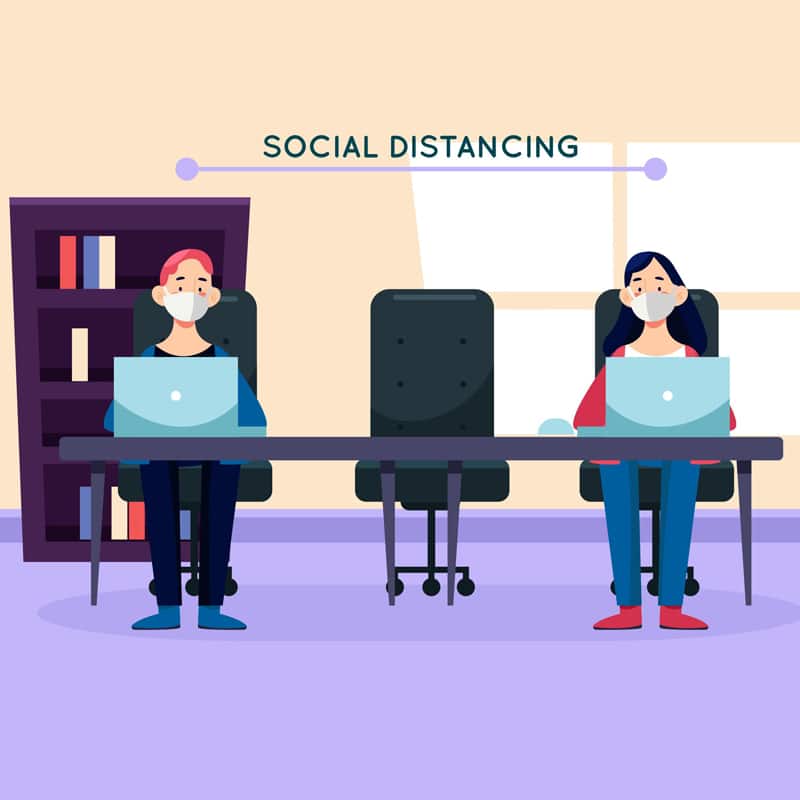 Watch Video
Short videos to explain our software's unique features
Short videos help in bringing out the unique features and screenshots of various modules which are explained in detail
Download Presentation
Our interactive PPT with detailed information on our product
The presentation details the key features of various modules and provides an overview of our product
Online Demo
Register for an interactive online demo session
In this interactive demo session, you will get a guided and complete overview of all the features and functionalities of eFACiLiTY®
Join the 1 Million+ Satisfied eFACiLiTY® Users !