SIERRA is proud to announce that its eFACiLiTY® Building is now India's highest-ranking WELL Platinum-certified healthy building rated by International WELL Building Institute under the WELL v2 rating system.
WELL Certification is a globally recognized standard that focuses on enhancing people's health and well-being in the built environment. We have been awarded WELL Certification at the Platinum level for our software development centre in Coimbatore, by the International WELL Building Institute™ (IWBI™) scoring 86 points out of 100 points. This prestigious accreditation was awarded through IWBI's WELL v2 (pilot), the latest version of the WELL Building Standard.
The WELL Certification and the highest ranking is testimony to our commitment to improving the health & wellbeing of our employees.
We achieved this certification by implementing effective corporate wellness strategies for improving employee productivity and well-being. We earned this certification by ensuring that all preconditions and possible optimizations were achieved and scored a total of 86 points across all 10 WELL concepts – Air, Water, Nourishment, Light, Movement, Thermal Comfort, Sound, Materials, Mind, and Community – that comprises of features with distinct health intents – that helped us to achieve the WELL Certification at the Platinum level according to WELL v2.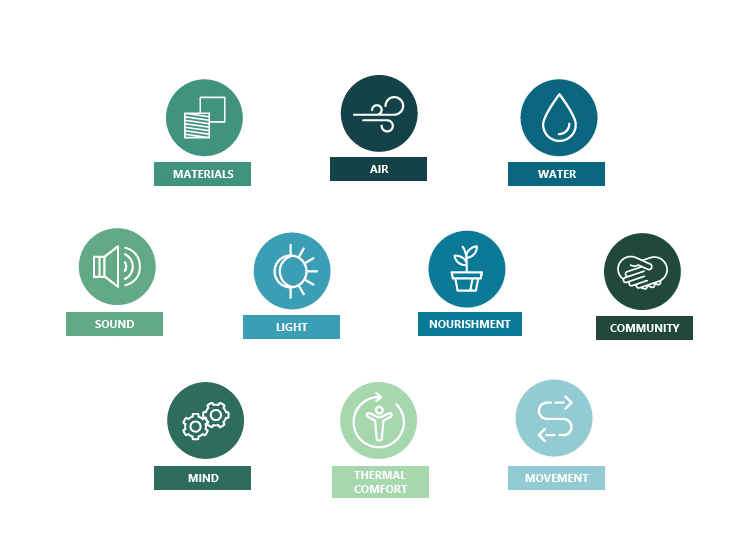 As part of the certification audit, we had to undergo rigorous testing of its health & well-being strategies and a final evaluation carried out by Green Business Certification Inc. (GBCI), the third-party certification body for WELL to ensure it met all WELL Certified v2 performance requirements. This certification is another important milestone in our portfolio-wide efforts to foster a global culture of health and well-being.
We are the developers of eFACiLiTY® Enterprise Facility Management System (CAFM/IWMS), the most comprehensive, easy-to-implement, state-of-the-art automation tool for the facility management domain with 35+ stellar modules.
eFACiLiTY® Occupant Health & Well-being App module was specifically designed to cater to the human health & wellness standards for buildings specified in the WELL Building Standard™, the leading global rating system constituted by The International WELL Building Institute™ (IWBI™). This app can be an employee's greatest companion in their wellness journey and a great tool to help achieve both their health and wellness goals.
Our eFACiLiTY® Building, Coimbatore is also rated as the World's 2nd Highest Ranking Green Building under the U.S. Green Building Council's LEED rating system NC v2009 and India's Highest Ranking Green Building under the India Green Building Council's (IGBC) Green New Buildings rating system.
Hashtags
#wellbuildings #IWBI #wellness #healthybuildings #healthyspaces #wellbuildingstandard #wellv2 #healthyworkplace #healthandwellness